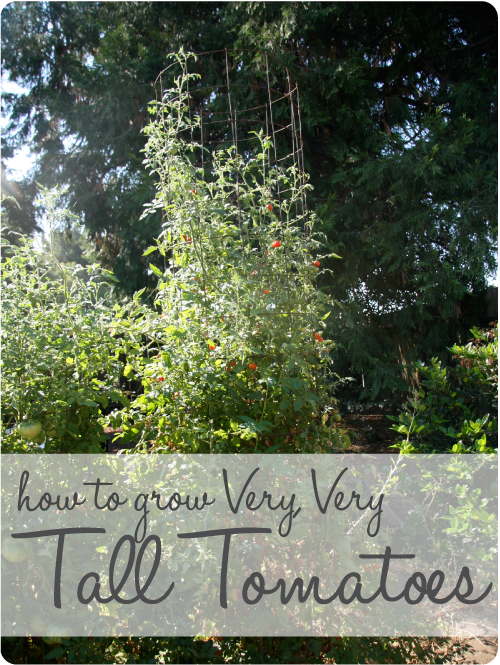 Growing tomatoes is such a staple for gardens in many climates. They are relatively easy to grow and there are endless ways to use tomatoes. If you have a small yard though, it may be hard to grow as many tomato plants as you'd like, which is why you need to get a little creative. Instead of more plants, you want the few plants you do have to grow as tall as you can. Over the years, we've tried lots of different methods for growing the most productive tomato plants, from simply sticking the plants into the ground, to using that fancy red plastic mulch (which doesn't work at all). This method is our absolute favorite method because it really gets both water and oxygen to the roots which is essential for a thriving tomato plant. This method is adapted to our needs from the book, How to Grow World Record Tomatoes: A Guinness Champion Reveals His All-Organic Secrets

(an excellent read). Grown this way we easily get 6 foot – 10 foot tomato plants each year, organically of course!
First we bought a few yards of drainage pipe (like PVC pipe with 1/2″ holes drilled into it) and cut it into 18″ lengths. Then after tilling the beds, we dig 15″ deep holes with the post hole digger about 18″ on either side of where the tomato plant will be planted. Because we tend to plant our tomatoes in a long row, we dig a series of holes every 3 feet along that row.


Place a length of pipe into the hole.


Fill the hole back up with dirt (but not in the pipe!). You should have a couple extra inches of pipe sticking up to allow some room for mulching around without it falling into the pipe.


Because we expect large tomato plants every year, store bought tomato cages just don't provide enough support. We custom built our tomato cages using 6″ concrete wire that comes in 5′ widths (learn all about it in our How to Support Tomato Plants post). We bend this into a circle and wire the edges together. We even have a few cages that we zip tied together to get twice as high for our larger 10 foot plants. This wire fencing provides ample support and has holes big enough to fit our hands through to pick those beautiful red tomatoes.

When the tomato plants are planted we water them deeply about twice a week, depending on the weather. We water both in a circle around the base of the plants, but also put the hose down into the pipe and let it fill up with water. The water in the pipe slowly drains down deep into the soil encouraging the roots to grown down deep as well, providing the plant a strong base to grow strong and tall. About once a month we'll water them well with fish emulsion as well for nourishment.
Try out this method this summer. You won't believe how getting the water and oxygen down to the roots that deep affects the plants. You will have your neighbors in awe with how tall & productive your tomato plants will be. Let me know how this method works for you.
Update: This post was originally written in 2008 and updated in 2014. Along those years we spent two years just simply planting the tomatoes in the ground with out the drainage pipes because we were in a time crunch in spring. Boy did we pay for it those years. We've since returned back to our pipe/tomato pairing and we've had one of our most successful tomato crops in years.