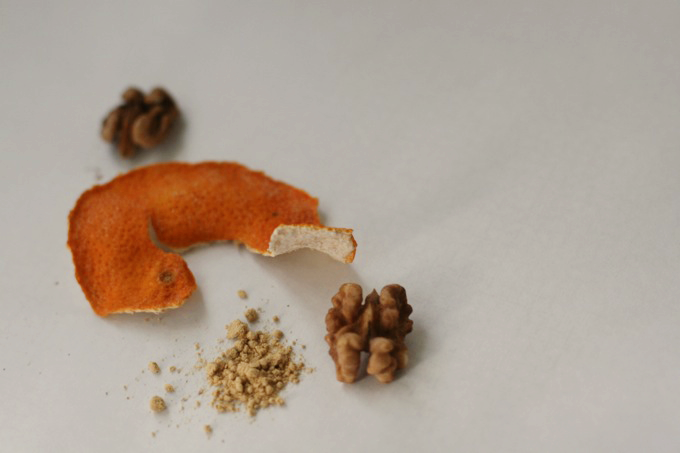 Thank you all for your support of my ebook. Thank you to all who entered the contest, gave encouraging comments, shared it with your friends. And thank you to those who bought the book too! We do have 5 winners (I used random.org to pick the winners)! Sara, Lisa, Tyson, Diane & Brenda will all be getting an email from me shortly.
Since we are on the subject of body care products you can make, I thought we'd talk body scrubs today. I have seen Pinterest absolutely flooded with different body scrub recipes and I thought I'd talk about them so that you could figure out which recipes you'd like to try. Plus I have a recipe to share with you myself.
A body scrub is typically a combination of an abrasive (typically sugar or salt) combined with a liquid (typically an oil) that you scoop out of a jar and rub on your hands or body to get rid of dead skin cells. Doing this will both rejuvenate and soften your skin. But how do you choose between sugar or salt? Both are great choices but they do have their differences.
Salt crystals are typically larger so are best suited for scrubs focused on elbows, feet and other areas that need extra work. Salt naturally contains minerals that are beneficial for your skin, however it can be a bit drying, so you have to weight the two for yourself.
Sugar, either brown or white cane, crystals are smaller and when used on damp skin the crystals start to slowly dissolve which makes sugar scrubs better for more delicate areas. However I still wouldn't use sugar on your face, its still a bit to harsh for your delicate face. Sugar also contains glycolic acid which releases and dissolves dead skin cells. In fact if you or any of your friends have had a facial chemical peel, glycolic acid (in much larger quantities) is one of the main ingredients in that process.
I want to introduce a third abrasive, which isn't seen as commonly, but is a great alternative, and that's almond or walnut meal. Almond meal can be commonly found in the baking aisle of your grocery store, or you can put almonds or walnuts in your food processor and pulse until you get them to a finely ground texture. These nuts are emollients, which means they naturally relax and soften your skin. Because the ground nut meal is softer than salt, you can use it on delicate parts of your skin just as you can sugar.
Most scrub recipes recommend that you mix one of these abrasives with an oil, which you are welcome to do, however it will make the floor of your shower very slippery. Use with caution! For a gal like me, who lives on property with old pipes and a septic system, I can't let oil go down my drains. Having flushed out clogged kitchen pipes all too often, I can tell you with certainty that it's bad for your pipes. And having talked with our septic guy, it's also no good for the health of your septic system. I had to search for another alternative. What I found was honey. I just love honey in body care recipes. Honey is a humectant, which means that it retains moisture, a great quality for skin care products. It also contains that lovely natural glycolic acid as well. Now, not all store bought honey is created equally. In fact up to three quarters of grocery store honey is actually filled with cheaper sweeteners (like high fructose corn syrup)! Because there are no laws regulating the labeling of honey, it is very hard to know what you are buying. If your intentions are to use pure honey, your best bet is to find a good source of local honey. Another clue that you are buying 100% pure honey is that you'll see in the jar that it's starting to crystallize. All honey crystallizes at some point. Added sweeteners will prevent it from crystallizing as fast.
Using honey as the liquid base of your scrub will leave your skin feeling very soft and moisturized for hours afterwards.
In my recipe I used both ginger and orange peel to give this scrub a great winter scent. Ginger is so warm and comforting in and citrus is revitalizing. By using the peel you get the natural essential oils so the orange smell will last on your skin, oh so faintly. At this time of year we go through dozens upon dozens of clementines. I just let a peel sit out for a day or two to dry. An alternative is to use the zest of one orange.
You see that I add just a teensy bit of  olive oil to the scrub. That small amount doesn't do much harm to my drains and it makes the scrub just a little easier to apply.
One important step to remember in using any body scrub, is to not scoop out the scrub with wet hands. Introducing water into any oil based scrub recipe will cause bacteria to grow. So you should scoop a small amount out first with a spoon and take than into the shower with you.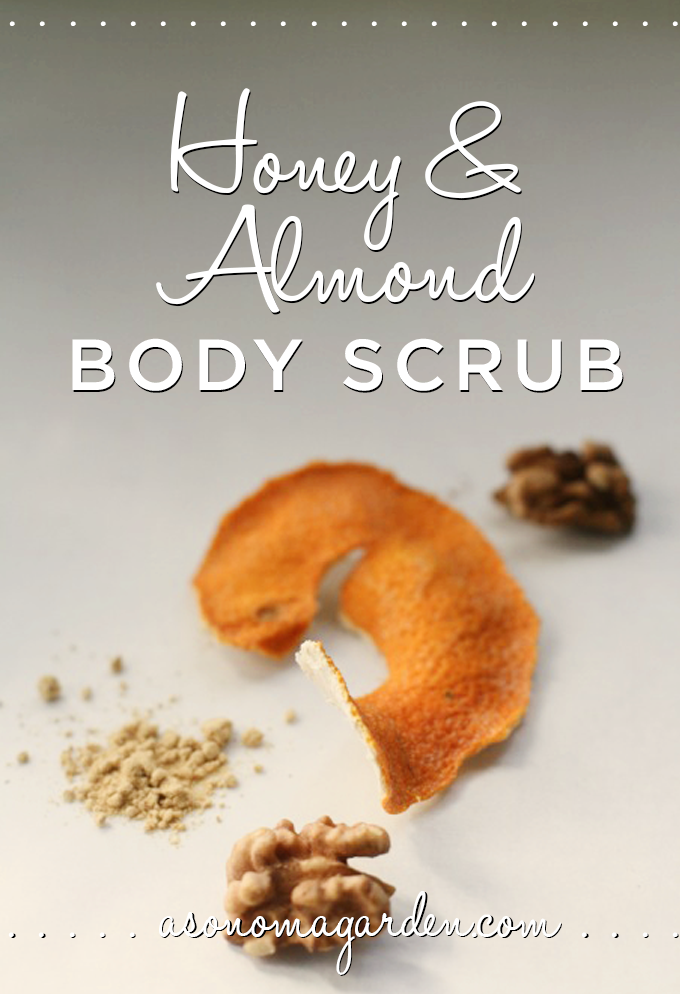 Honey & Almond Body Scrub
Ingredients
⅓ c. walnuts or almonds
1 dried clemantine peel (or you can use the zest of one orange)
1 t. dried ginger
2 T. honey
1 t. olive oil
Instructions
Into my food processor I place the nuts and the dried orange peel (if your family goes through clemantines like mine do, just set a peel aside and let it dry for a few days) into the food processor and pulse until finely ground like sand. Put into a small bowl and mix in dried ginger. Add in honey and olive oil and mix until combined. Place in a small jar. The shelf life should be about 6 months.