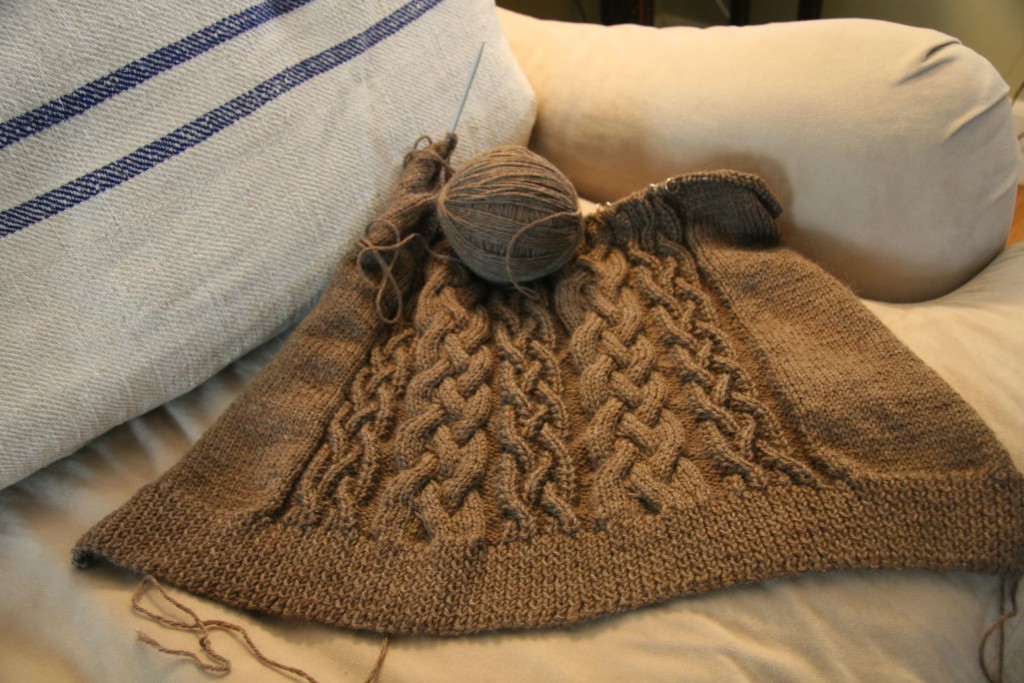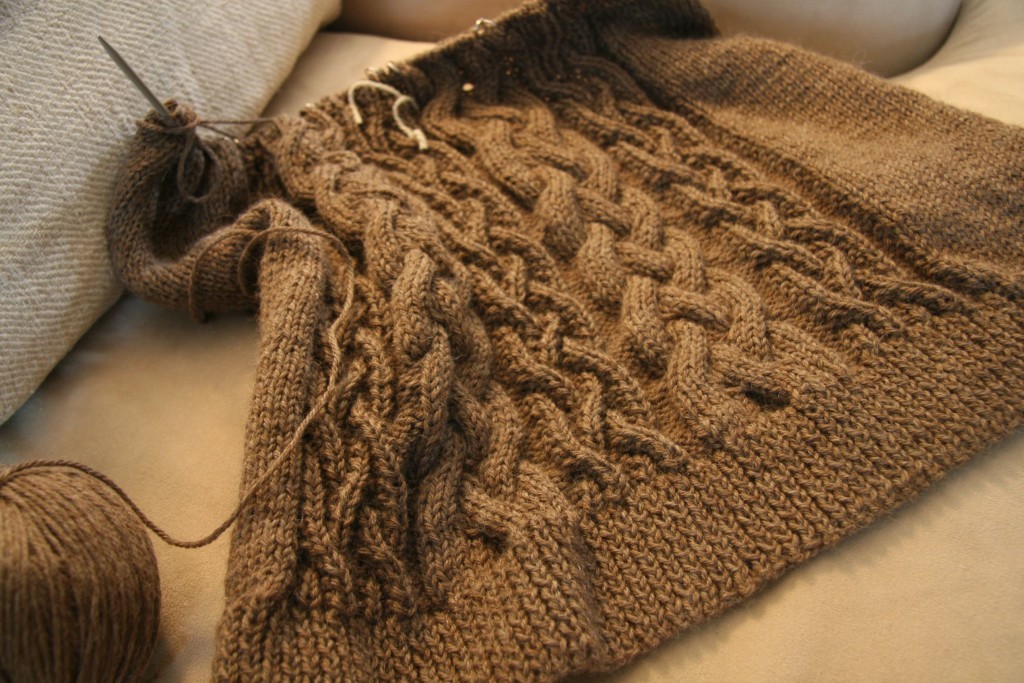 Being that it's the warmer summer months, a lot of knitting has been going on around here. The moment I cast off from my cardigan, I started swatching to knit Scott a sweater. Yes, the first sweater I've ever knit for him. When we were first together together I had read in Stitch n' Bitch that it was the knitting curse that if you knit your boyfriend a sweater, you would inevitably break up. Turns out, I'm a fairly superstitious person because I took that quite seriously. It was only about a year ago that I finally even knit him a hat. But we made it through that, so I knit him a second. Now that we've been together for 14 years, I'm ready to brave a sweater. Many other knitters have tried this and still seem to be with their husbands. After our 14 years together, in which we've overcome plenty of hardship, if a sweater is going to be the thing that breaks us up, then I don't know what to say.
All that said, I picked a fairly complicated cabled sweater pattern. In fact it was seeing this pattern come out in Brooklyn Tweed that inspired me to knit him a sweater in the first place. It's going to take a lot of time to knit this and a fair amount of brain energy to keep these cables straight, so after all of this, if he doesn't wear this thing, I might just divorce him. Of course I'm completely kidding, it's been really fun to knit. Not only does it have interesting cable patterns going on it's full of tiny little details which I love. And I feel that it's a knitting challenge to make this such a perfectly fitting and comfortable sweater that he'll love putting it on. And if I achieve such a feat and if he still doesn't wear it, well then….
In other knitting related news, I'm hooked back into natural dyeing. You remember I challenged myself to make a fair isle sweater out of yarn that I dyed from plants on our property. I sort of dyed myself out with that project. But this spring I'm starting to get hooked again. I watched this video of Sasha Duerr the other day, which is really inspiring. I have her book and Rebecca Burgess' book as well. Both are really good books if you want to learn more yourself. Anyway, I watched her video in the middle of a sort of 'down and out' kind of day and I walked straight out into the garden and picked a large jar worth of marigolds, filled it with water and let it sit in the sun.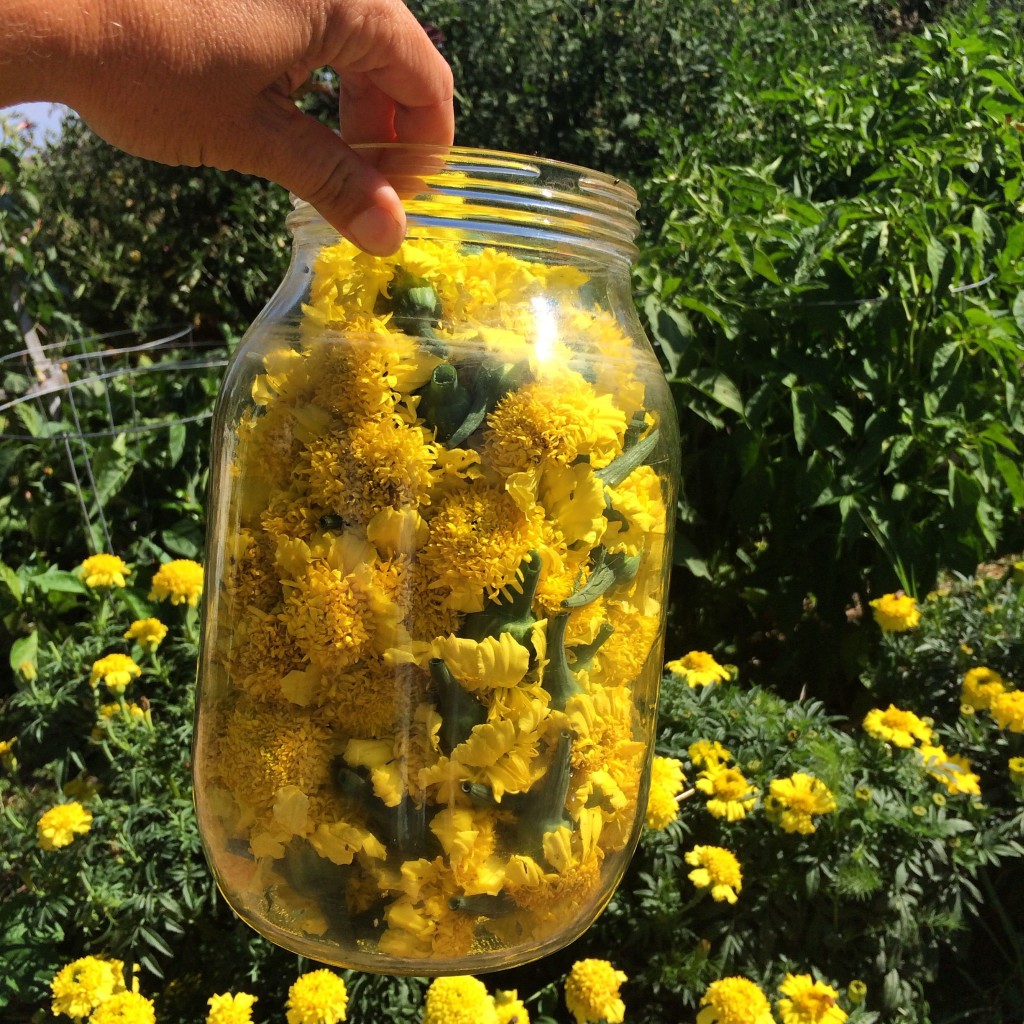 I was hoping that just sitting in the sun would be enough to extract the color, but it wasn't, so I brought it in the house and poured it all into a pot and let it simmer on low for almost and hour. At the same time I simmered the yarn in alum, which is a mordant that helps the wool absorb and keep the color of the dye.
Now I'm not a scientific person by any means, so I can't tell you the calculated weight of the marigolds nor did I set timers on any of this. I go about all of this in a very intuitive manner. So after simmering a jar full of marigolds for about an hour and then letting that sit for maybe another hour or two until I felt like all the color was extracted from the flowers, I strained it and added the yarn and turned the heat slowly back up to just below a simmer. I did that for about an hour then turned it all off, went to bed and woke up to this beautiful mustard yellow yarn.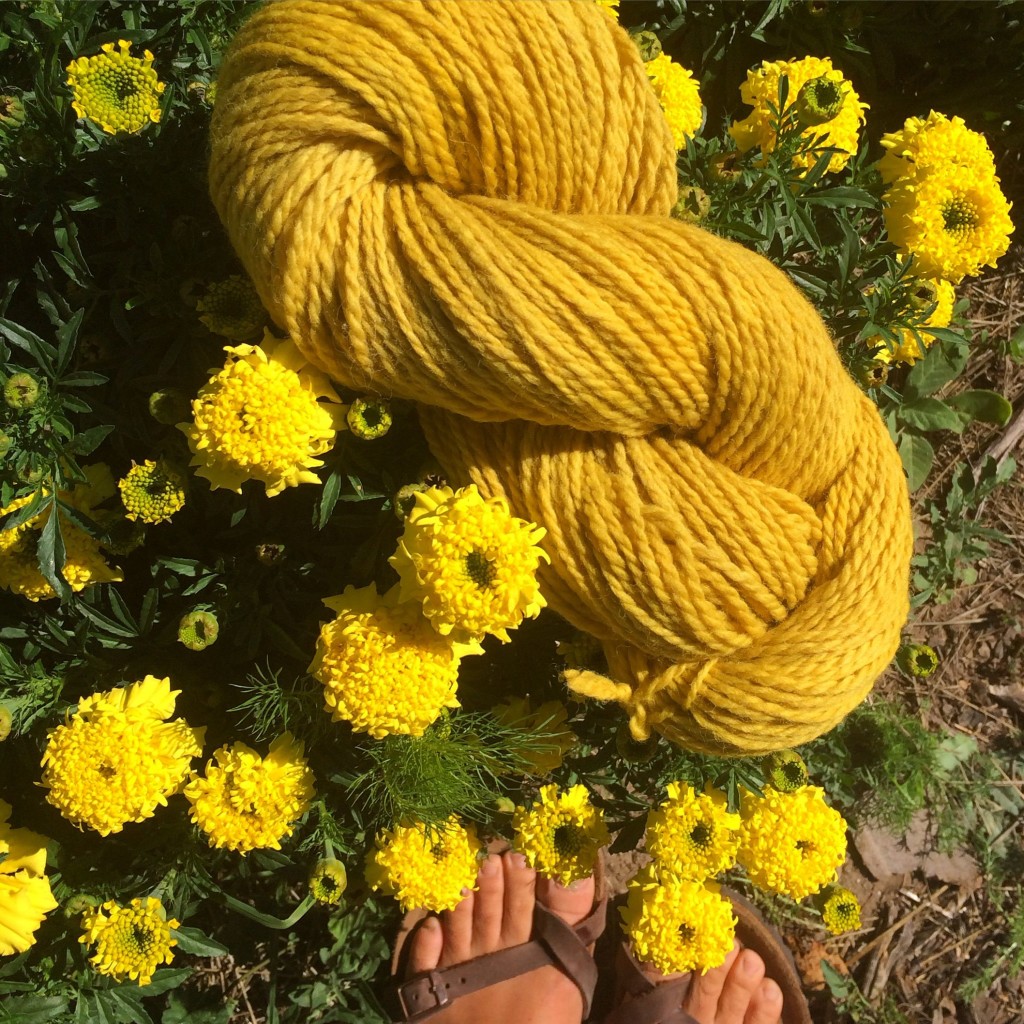 It was so magical, I'm already planning on my next venture, which should be the niger hollyhocks. I think I've almost collected enough to give it a go. I just wanted to add, that natural dyeing isn't hard. You don't need complicated materials. If you are interested in trying this out, you can totally do it. All you need is 100% white wool or silk and alum, which can be found in the spice section of most grocery stores. Believe me, if you are having a hum drum day, and have access to any flowering marigold plants, which are abundant this time of year, you too can try this.
Try it and tell me how it goes, alright?