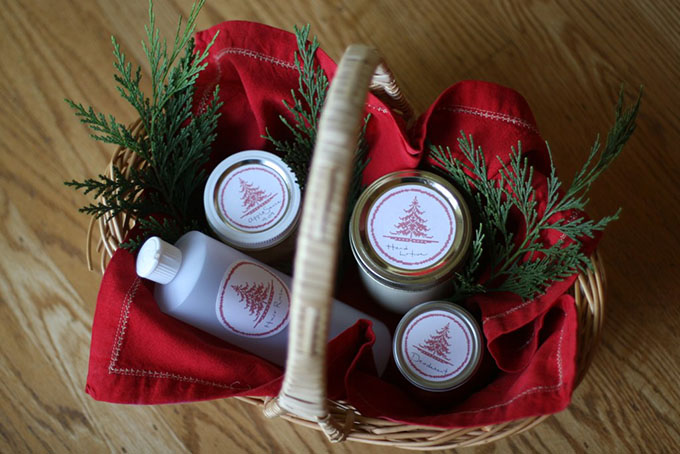 Each year at Christmas I enjoy making the people I love a collection of homemade goodies. It's a fun little task to make up all sorts of little bottles and jars full of lovely hand lotions and edible goodies and lip balms. And I love packaging all these creations up together. Each year I try and make it a little different. Different packaging, different baskets or boxes, and different combinations of lotions, potions and preserves.
All the body care recipes that I create are much easier to make than a batch of cookies. I also try my very best to make sure that my recipes are much more affordable than store bought. For me, if anything is too complicated or too expensive, I just won't make it. All the recipes I list below are simple to make and very affordable.
In the photo above I used a thrift store basket with a thrift store red napkin along with some fresh cut cedar boughs. Inside I placed:
In addition, you could also add these easy to make items:
 
For a handful of dollars you can buy my Simple Hand Crafted Body Care ebooklet that provides 6 body care recipes that I personally use myself everyday. The booklet also includes a separate label download. The recipes found in that are:
Body Butter (seriously a wonderful lotion that I love more than anything store bought)
Lip Balm (I really do use this one every day, it's lovely)
Microdermabrasion Scrub (a wonderful facial scrub that you could make with ingredients in your kitchen today)
Soothing Bath Salts
Spicy Aftershave
You can buy the ebooklet directly here: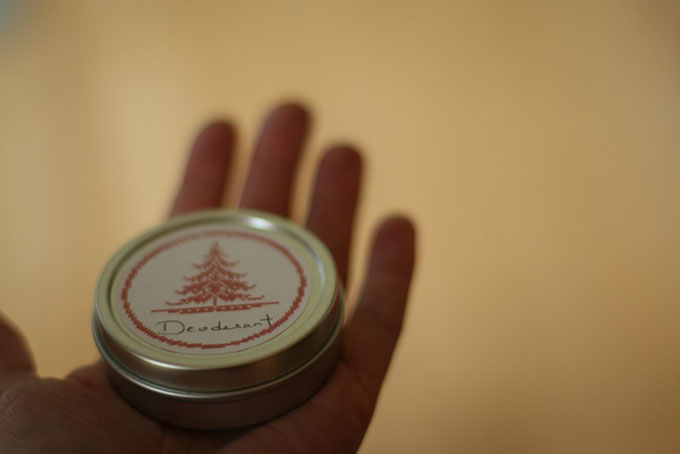 It's my guess that you already have olive oil, baking soda, cornstarch and honey (and applesauce or other summer canned goodness) in your kitchen. Add in a few more ingredients that I've listed below and you'll have yourself the base to make pretty much all of the items above. I estimate that if you buy all the listed ingredients it should cost about $40-$50 and you can get about 6 batches of deodorant, 15 batches of hand lotion, 8 pints of beeswax lotion, 4 batches of Winter Hand Salve, and countless tins of lip balm or tubes of homemade chapstick. Not too bad!
The label design is inspired by my love of all things Scandinavian at Christmas time. I just love the simple white and red and that folksy cross stitching is so sweet. You will see that there are two sized labels, one for wide mouth canning jars and one for small mouth jars. The smaller label also works for those cute 2 oz tin lids. Click on the image below and it will take you directly to the download page. Print them out at full size (Adobe Reader tends to shrink things slightly, so double check in your print window that it doesn't reduce your file.) on Avery Sticker Project Paper. Cut them out and you are ready to adorn your gifts. Enjoy!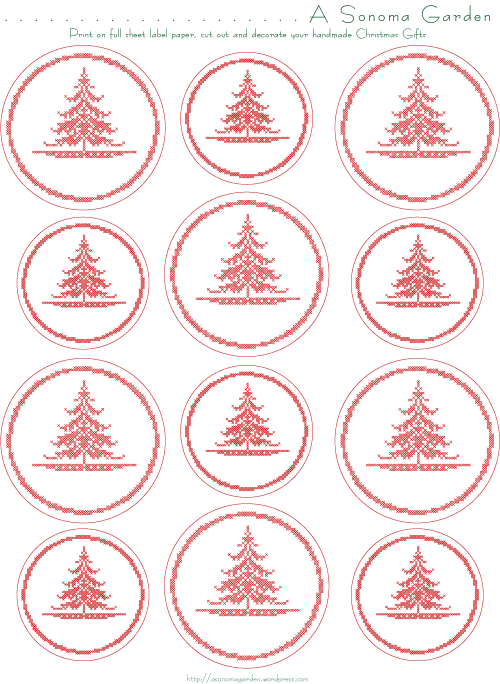 (The above post includes affiliate links. When you make a purchase with those links I earn a small percentage of money from your purchase. Thank you for helping to support A Sonoma Garden!)